Coroner, mental health officials dispel common suicide myths
Cathy Murphy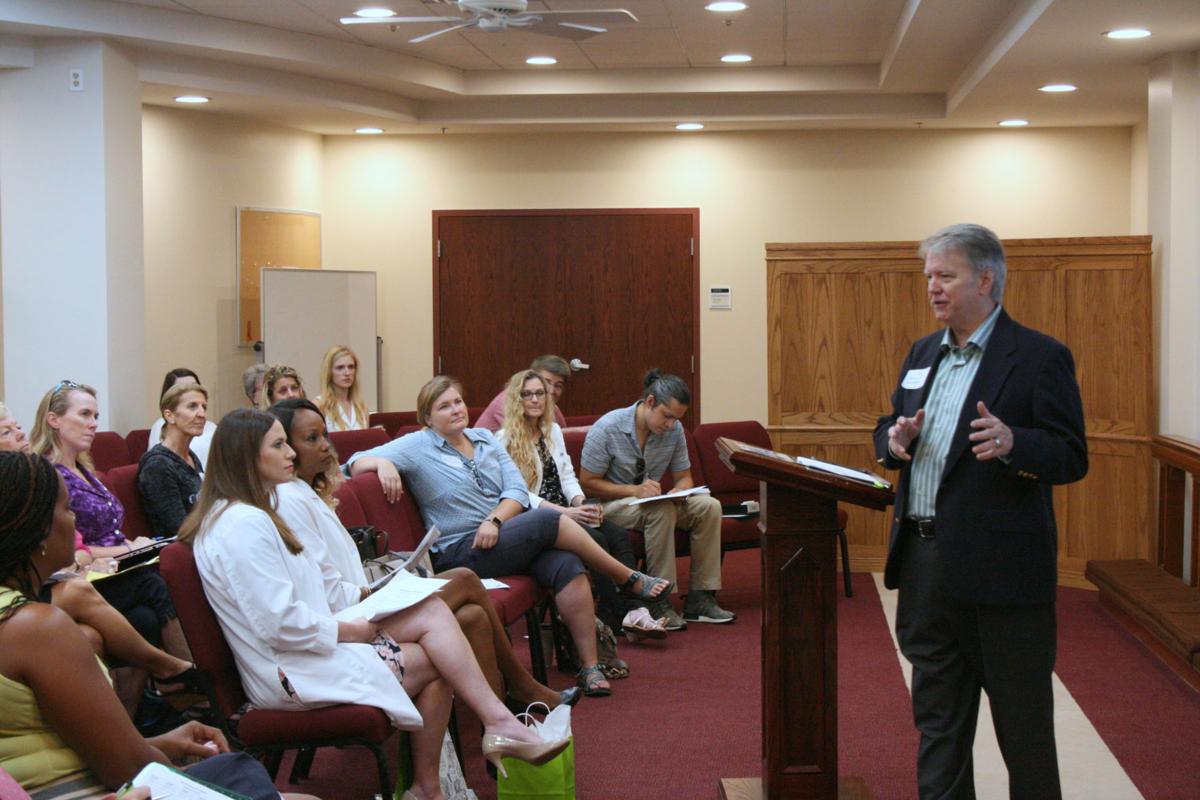 JOHNS CREEK, Ga. — Suicide is one of the leading causes of death in the United States, yet it remains one of the most difficult topics to discuss for many.
That radio silence, even with good intentions, can cause more harm than good.
Dozens of residents met at Mount Pisgah United Methodist Church Aug. 30 to broach the topic, better understand it and dispel some of the common misconceptions about suicide.
"In the absence of meaningful talks, suicide myths have evolved," said Dr. Rachel Geller, associate medical examiner for the Fulton County Medical Examiner's Office.
These myths can cause people to overlook signs or not consider that a loved one is considering suicide, she added.
Geller along with Dr. Jan Gorniak, the chief medical examiner, examined autopsy data from Fulton County and hundreds of survey data they received from questionnaires about some of the most common myths. The session covered questions regarding suicide rates among different demographics, common methods, suicide notes and messages and timing.
The youngest age a person may be considered a suicide and the average age of a suicide in Fulton County was perhaps the most shocking for the crowd.
Most survey respondents said teenage years were the youngest a person could be considered a suicide and the average age of victims was 27.7 years old.
But the youngest victim of suicide Gorniak said she had worked on was an 8 year old. And it's not that uncommon, she added.
The average age of suicide in Fulton County is 43.9 years old, Geller said. The rates of suicide among different age group are pretty consistent from 21-60 years old, before dipping down and spiking again in the 90s.
The weapon of choice in most cases across all demographics, Geller said, are firearms.
That includes women. 
Geller and Gorniak's survey data showed over 80 percent of respondents said overdose was the most common method of suicide for women. In fact, the majority of female suicide cases that end in death in Fulton County involved a firearm. Overdoses account for 28 percent. 
As this is autopsy data, it does not include attempted suicides. 
Several mental health professionals from Summit Counseling Center also spoke about the topic and fielded questions from attendees.
One of their main messages was to take any remark hinting about suicide seriously and that talking about suicide will not plant the idea in someone's head.
On the contrary, talking about suicide can actually help lower the risk, they said.
Fulton County Schools is also partnering with Summit Counseling Center to add more mental health professionals in its schools. Currently, schools that offer help from Summit Counseling include Alpharetta, Centennial, Chattahoochee, Johns Creek, Milton and North View high schools.
A texting program that can connect students with mental health professionals is also in the works.
"We all have to be engaged," said Fulton County Commissioner Bob Ellis. "There are hard issues that aren't going away, but they can get better."
"If we talk about it, we can save lives," Gorniak said.
This discussion was part of a series of meetings by the North Fulton Mental Health Collaborative. To learn about future meetings and events, visit facebook.com/NFMHC.
Republished from Herald Newspapers: https://www.northfulton.com/community/coroner-mental-health-officials-dispel-common-suicide-myths/article_c2c65af6-afae-11e8-a4ac-2fbded87c762.html?utm_medium=social&utm_source=email&utm_campaign=user-share